This post may contain affiliate links. Please read the disclosure policy.
This Pandan Mango Roll Cake recipe is very easy. The number of ingredients are not in abundance, prep is a breeze, cook time is less than ten minutes, and rolling the cake is actually very feasible. You will be amazed with your finished product and you just might move on to more challenging recipes.
Home Influence
I am truly blessed to have two parents that not only love to cook but have also passed that love down to me. I love and miss the dinners that we would have growing up. Some of them I cook for my kids, hoping that at some point they will grow to love them as well. I remember my Dad watching Cooking with Daza, nightly on TFC. He always had a note pad with him to record recipes and special notes to remember. I also remember that my Dad had the secret barbecue marinade that everyone loved.
My Mom had a faded blue binder containing hundreds of recipes from ingredient packages, magazine and newspaper clippings, typed out ones as well as hand written ones too. My favorite was the soft, buttery dinner rolls that she would make for Thanksgiving and Christmas dinners. At every family party, whether it was lemon squares, chocolate pudding cheese cake, sweet pretzels or pistachio cake, her desserts never lasted long.
My parents definitely put a long lasting impression on us. My two brothers went into careers in food business, and at one point we owned a restaurant. I, on the other hand, took other paths yet my kitchen is a lab and I sit here at my desk writing up recipes. I do remember being pretty young when I attempted my first layered cake. At a young age I also loved baking cookies. Of all the recipes that I create, the desserts are my favorite to do.
Pandan
I recently saw an article about the increasing popularity of ube, or the purple yam. This makes me laugh because the taste of ube has never changed. Again recently, I saw another article that pandan leaves are becoming a favorite garnish for bartenders. Hey I'm all for the recognition of traditional Asian ingredients or foods, but let's make sure we don't inflate prices. This is one big reason why I grow my own purple yams. I'm also going to get a head start on our own minari crops. A pandan plant, on the other hand, might be difficult to grow in the desert but I would love to try.
Flavor?
In Asian cooking, pandan leaves are used in many ways. Similar to the use of banana leaves, it is popular to wrap meats and rice before steaming or grilling. If you do some research, you will find that the pandan flavor is difficult to describe. I honestly don't believe that it has a flavor like salt or sugar hitting your taste buds. I think that it is more of an aromatic that enhances the flavors of the other ingredients.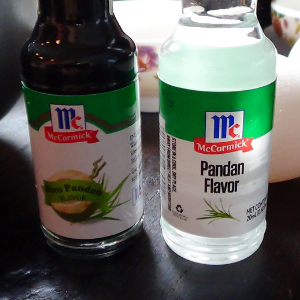 It's Easy Being Green
Another popular use of pandan leaves is for the extraction of its green pigment. This pigment is used as a natural food color for many delicious Asian cakes and other sweet treats. Not only is it not an artificial coloring, pandan is packed with nutrition that lead to many potential health benefits.
Tricks of the Trade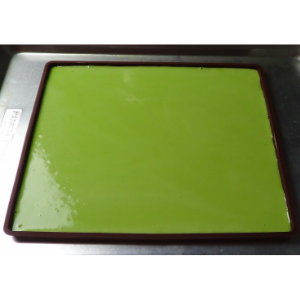 At some point, many of us have seen beautiful roll cakes at a bakery or at our favorite Vegas buffet. You too can make these culinary wonders at home. It all comes down to technique and there is a tool to make it easier. I use a silicone baking sheet mat. Not only is it helpful when rolling, I think that its durability and versatility make it a kitchen gem. When making a roll cake, it is not a must but its silicone make makes the process easier. To form a good cylindrical mold, there are a few good tricks. One of them is to create the form while the cake is still hot. The mat will cool faster to the touch than an aluminum sheet pan. Also, the flexibility of the mat provides just right amount of sturdiness to support the cake and releasing it when preparing to roll.
Pandan Roll Cake Ingredients
When creating recipes, I always think of the novice or those that just want to give a recipe a shot. Not all of my recipes turn out that simple but I am always aiming to boost the kitchen confidence. Like many recipes for baking, I like to separate my ingredients into two categories: The dry ingredients and the wet ingredients.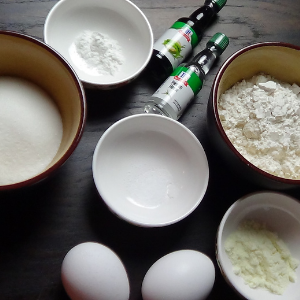 The Dry
I like using cake flour when I do lots of my baking. It is more costly than all purpose flour but it will produce a softer and finer texture to your cakes and your cookies will be softer and chewier. There is a way to make your own cake flour out of all purpose flour but I don't want to add another variable to the outcome of this recipe. Another secret ingredient that I like to add to my baked goods is some powdered milk. The rest of the dry ingredients are pretty standard. You will need baking powder, a pinch of salt, powdered sugar and granulated sugar. The powdered sugar won't go directly into the cake mix but will serve a couple of roles later and the granulated sugar will actually be part of the wet mix.
The Wet
This part is pretty simple. Your liquid source is going to come from eggs. Easy, right? You will add Pandan Extract for some flavor and some Buco Pandan extract to achieve the eye catching, bright green cake, but they're not going to add much to the liquid content.
The Yummy Mango Filling
The visual contrast of a white filling with the orange from chopped mango, against the green cake is the perfect prelude to what you are about to taste. The filling is actually very basic. It is comprised of cream cheese, powdered sugar, heavy whipping cream and chopped mango chunks. I go frozen with my mango chunk because you will have a better control of its juices. Fresh mangos, if ripened to a certain point will render more juice and may loosen up the desired thickness of your filling.
Two big tips for the filling. Whip the heavy cream, powdered sugar and cream cheese with your mixer. Be sure not to over mix it. Once you achieve a thick consistency, you are done. Now you can add your chopped mango bits and gently fold it into your filling.
That's How I Roll
Although a fairly simple process, you probably already imagined that the rolling of the cake is the most challenging part of this recipe. It is, but if you follow a few important steps, you will be "rolling" right through this recipe.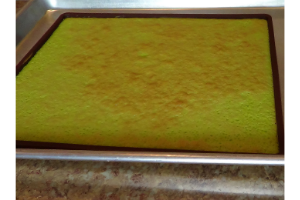 As soon as the cake is cooked, remove it from the oven and allow it to cool for a couple of minutes. My mark is when I am able to touch the silicone mat with my bare hand. That is my cue and I do not recommend it. My point is that this will work better before your cake cools off. As you can see, this cake is very thin. It will not take long for it to cool off. Peel back the edges of the mat to detach it from the cake. This will help the separation process.
Take a sheet of parchment/wax paper and put it over the top of the cake. When you later remove the paper, it will be a little sticky but nothing too bad. If you want, you can dust (lightly apply) some powdered sugar over the cake before placing the parchment paper over it. This will act like flour when you are kneading dough by hand.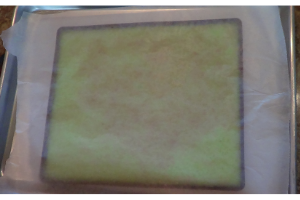 The Flip
Once you have the cake covered, place one hand beneath the mat and the other over the cake. Flip it over so that the parchment paper is no on the bottom. Slowly peel the mat off of the cake. Allow it to separate on its own versus quickly removing the mat. Now the once bottom side of the cake will be the inside of your roll. Pick up the cake by the paper and place it back onto the mat.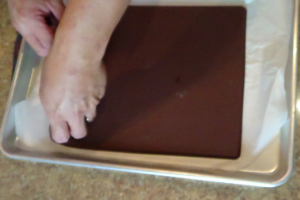 The First Roll
Again, dust the cake with powdered sugar. Don't forget this step. You are creating the roll mold before adding the filling. Dusting it will keep it from sticking when you unroll it. Place the cake in front of you, lengthwise. Pick up the two close corners of the mat and gently start the roll. Don't over roll it, trying to make a tight roll. If you have to handle it by the cake or by the parchment paper, that is okay. Continue to push the mat, rolling the cake, along with the parchment paper. Place the roll in the refrigerator to cool and to form into the roll mold. Again, it's a thin cake so it won't take too long.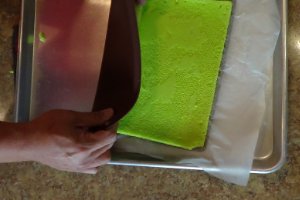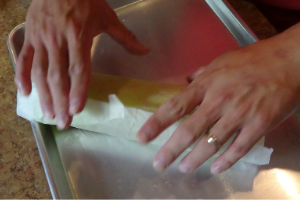 The Second Roll
Once cool and formed, unroll the cake and evenly spread the filling. Once you are done, reroll it while separating the cake from the parchment paper. Wrap the cake roll in plastic wrap and place it back into the refrigerator for a few hours, to let it continue its molding process.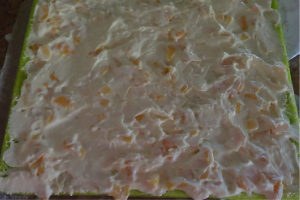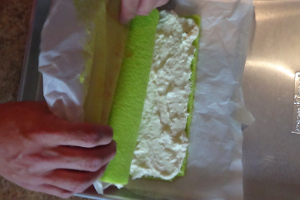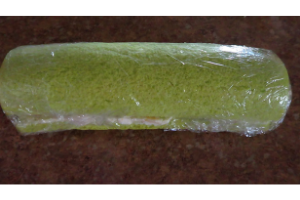 Finishing Touches
Remove the cake roll from the plastic wrap and place it on you serving plate. If you are making this for a party or if you need it to look nice, I recommend slightly cutting off the ends. Use a serrated knife and wipe it clean before cutting the other end.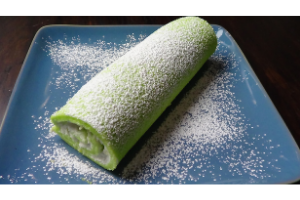 To complete the presentation, you can simply powder coat the cake roll by sifting powdered sugar over it and the plate. Another option is to make more frosting, without the chopped mango, to spread over the cake roll, like a frosting.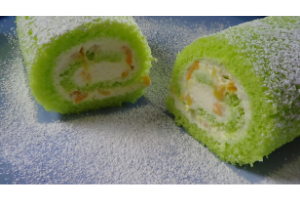 Enjoy and don't forget to brew a fresh pot of coffee.
Masayang Pagluluto!
Kain na tayo!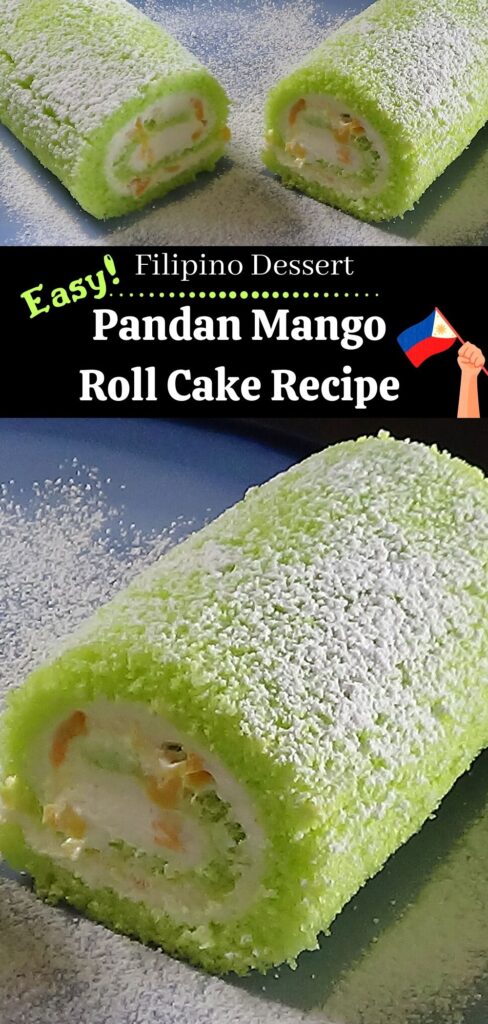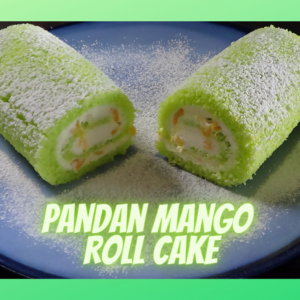 Pandan Mango Roll Cake
This Pandan Mango Roll Cake recipe is extremely easy and it gets even better with a roll mat. You'll be impressed with your baking skill with this one.
Equipment
Swiss Roll Silicone Baking Mat

Mold size: 9 1/2 X 11 1/4 x 5/8
Ingredients
Cake (Dry Ingredients)
½

cup

cake flour

1

tsp

baking powder

¼

tsp

salt

1

Tbsp

milk powder
Cake (Wet Ingredients)
2

large eggs

⅓

cup

white granulated sugar

¾

tsp

pandan extract/flavoring

¼

tsp

buko pandan extract/flavoring
Filling
½

cup

heavy whipping cream

4

ounces

cream cheese (1/2 block)

room temperature

¼

cup

powdered sugar

¼

cup

frozen chunks mango

chopped
Instructions
Wet ingredients
Mix eggs and sugar until light and foamy (approx. 3-5 mins).

Add pandan and buko extracts. Mix well
Dry ingredients
In a separate bowl, combine cake flour, baking powder, milk powder and salt. Mix well.

Add dry ingredients into the wet ingredients bowl and mix well.

Lightly spray your silicone baking mat with cooking oil, (optional but this will help)

Place mat on baking sheet, pour batter onto the mat

Bake for 8 minutes (check at 6 minutes) toothpick should come out clean. *8 mins was perfect for oven and our mat, it does not take long to bake because of the thinness of the batter, be sure to check at 6 mins for doneness.

Cool long enough to touch the mat without burning yourself but not room temperature. The first roll should be done when cake is warm.

Carefully peel back edges of mat from the cake.

Place a piece of wax paper over cake. Flip cake over onto wax paper side.

Carefully remove mat from cake. Place cake on mat with wax paper side down. Lightly dust cake with powdered sugar.

Using the mat carefully roll cake along with wax paper still on. Secure roll with tape and cool in the fridge for 5 minutes.
Filling
Whip heavy cream, cream cheese, and powdered sugar together until mix thickens. Do not over mix.

Add chopped mangos and fold by hand into the mix.
Add Filling to Cake
Unroll cooled cake and evenly spread filling.

Carefully roll cake with filling, removing it from wax paper. Wrap in plastic wrap and cool in fridge for 3 hours before serving.
Notes
Baking time: 8 mins was perfect for oven and our mat, it does not take long to bake because of the thinness of the batter, be sure to check at 6 mins with a toothpick for doneness. Important: Cooling for 3 hours before serving creates moist cake.  If any of the steps sound confusing, please refer to blog for detailed instructions and pictures on how these steps look.